Skateguards
hockey skateguards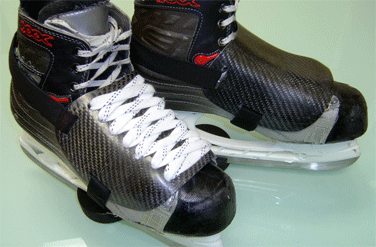 After Hours Composite Works manufactures custom and universal
Skateguards to increase a players' confidence in blocking shots or playing while recovering from an injury. We have developed these guards with the help of NHL players and equipment/training staff.
The current class of hockey skates are extremely lightweight and
thin offering almost no protection from impact. These guards were
designed to enhance the strength without adding unnecessary weight or stiffness to the skate. We employ material and fabrication technology gained through the manufacturing of parts for the professional auto racing industry.

We work closely with the equipment managers and athletic trainers to meet the specific requirements of each individual player. Our
custom guards are the result of this ongoing relationship. These custom
guards have been tested and are used exclusively by various players in
the NHL.
At the recent PHATS/SPHEM conference in Phoenix, several of the equipment managers and trainers expressed concerns of game-time
injuries. From this feedback, we determined a need for an "emergency kit" to get a player back on the ice ASAP. Universal Guards were
developed to fill this need. Now, the teams can have emergency protection in their equipment bags to keep players in the game.
These guards are made to fit a wider range of skate and can be easily adapted to meet the needs of most players.
pricing and ordering information
UNIVERSAL GUARDS
Universal guards fit almost all skate brands and are available in large (sz 9-10.5) or x-large (sz 11-12). They are usually in stock and can
be shipped upon order.

Universal top guards $250 per pair (large 9-10.5 or extra large 11-12)
Optional laces (for stealth) $50 per pair
Universal side guards $350 per set of four (large 9-10.5 or extra large 11-12)
Call us for any other universal guards not listed.

CUSTOM GUARDS
Custom Guards are made to fit exactly and require sending us a player's skates to make custom molds.
The process starts with the training staff and player determining the specific area to be covered by the guard and marking it on the player's
skates (preferably a broken-in pair). The skates are then sent to our facility where we make molds of the skates. If needed, the skates can
be returned at this point (approximately 1-2 days). We then make the guards, trim, drill and cut mounting slots. We normally cut mounting
slots for the 1" elastic stocked by most all of the training/equipment staffs. The actual straps can be made by us, but most staff members
choose to make their own to get the best fit for each player.

We catalog the molds under each player's name in case a guard is damaged or lost, whereby the team can order another part without sending
the original skates again. Each mold is usually serviceable for at least 5-6 parts. Turn around time for the completed guards is usually 5-7 days
upon receipt depending on the complexity of the part.

Custom top guards $600 per pair (includes mold setup)
Optional laces $50

Custom side guards $800 per set of four (includes mold setup)

Send custom orders and skates to:
After Hours Composite Works
612 Sanford Ave. #2
Wilmington, CA 90744
Phone: 714-220-2030
Email: info@afterhourscompositeworks.com

The skates and guards are shipped UPS ground service. Air service is available for an additional charge. Expedited manufacturing is available in emergency situations for an additional fee.

We can custom make almost any type of guard. Contact us with your special needs.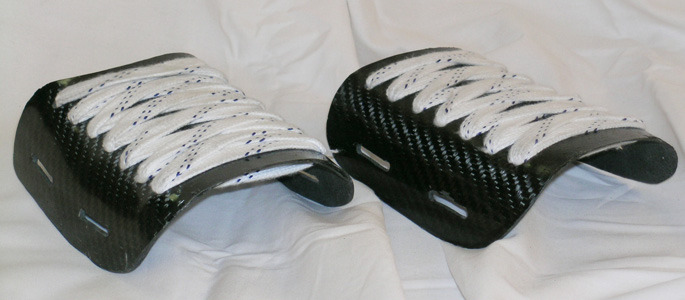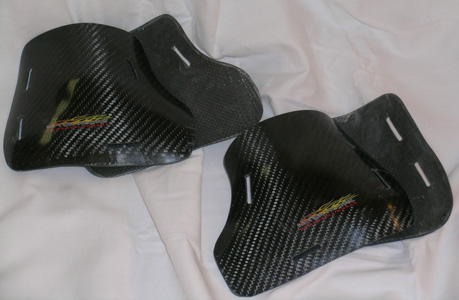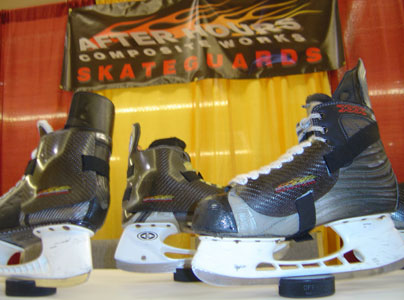 ---